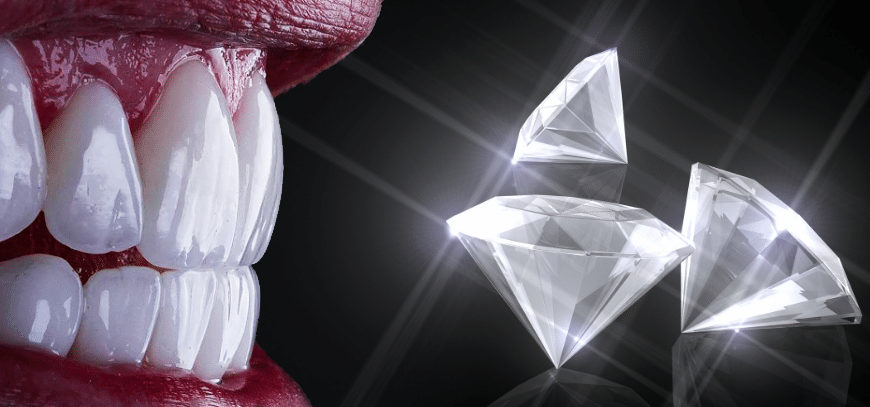 ---
What Is Emax- Veneers ?
In dentistry, special types of porcelains are used to give patients realistic and natural smiles.
IPS E-Max differs from other teeth restorative materials by combining strength by beauty.
As it is made out of porcelain completely it doesn't contain any metal at all. For this reason the teeth can glow just like natural teeth.
E-Max Veneers are mostly preferred for frontal teeth. It is the number one material that is used to provide aesthetic teeth and smiles. It is also the the material which has the luminosity effect closest to the natural teeth and they are %100 compatible with natural teeth. Even under different lightning conditions it is the closest to natural in terms of luminosity.
There is no metal at all in E-Max veneers. So the metal doesn't interact with gums and doesn't paint the gums grayish or to a blackish color and thanks to that you can get natural looks in both teeth and gums.
This also applies to the zirconium crowns. E-Max veneers are made out of glass seramic and it has enough strength and rigidity to face chewing forces.
Crowns made out of Lithium Disilicate have enough rigidity to chew properly. When applied, can be used for a very long time without any problems.
Also, as the material is very thin, not extreme trimming or shaving is required, this also provides less sensitivity in teeth. Despite being thin, it is very strong.
---
E-Max Veneers Advantages
One of the biggest advantages is that E-max has an aesthetic looks. As it doesn't contain any type of metal it can't cause any allergic reaction and no blackness around the teeth & gums occur.
The other advantage is that it doesn't alter the teeth structure. The materials they contain are bio-friendly.
As it is luminous, you don't get a matte look on the teeth.
There are many options when it comes to colours, teeth becomes smooth and even. Reduces the teeth sensitivity to a zero.
The slippery surfaces prevents teeth plaque formation and it also helps a lot with the prevention of gum diseases.
Fequently Asked Questions
Do You Have Any Question?
You can ask us any questions about this treatment 24/7.